It took me way too long to post this but I finally sat down and finished editing all the photos and wrote about my Atlanta adventures! I flew in from Georgia a couple weeks ago and hit up some amazing restaurants. It was my first time exploring the city and I was pretty shocked at how much I liked it. Before the trip, I heard about Atlanta's unpredictable lightning and their humid air. Needless to say, I was not super thrilled to go. While the humidity part was indeed true, I was surprised at how much I loved the city and overall atmosphere. The people were so kind and friendly and had that Southern hospitality charm. One of our Uber drivers joked that people in Georgia are overly polite and apologized too much. Along with the people, I fell in love with their beautiful architecture. They had a lot of cool brick & mortar shops as well as tall commercial buildings, which added to the cool city vibes. The urban/industrial look was so effortless and matched perfectly with their gray skies —my favorite. During my stay, I got to eat some of the BEST meals that I have to share with you! My mouth is salivating reflecting back on these delicious memories. I tried setting the photos a little differently since there were so many of them, so be sure to click through the gallery by clicking the little arrows!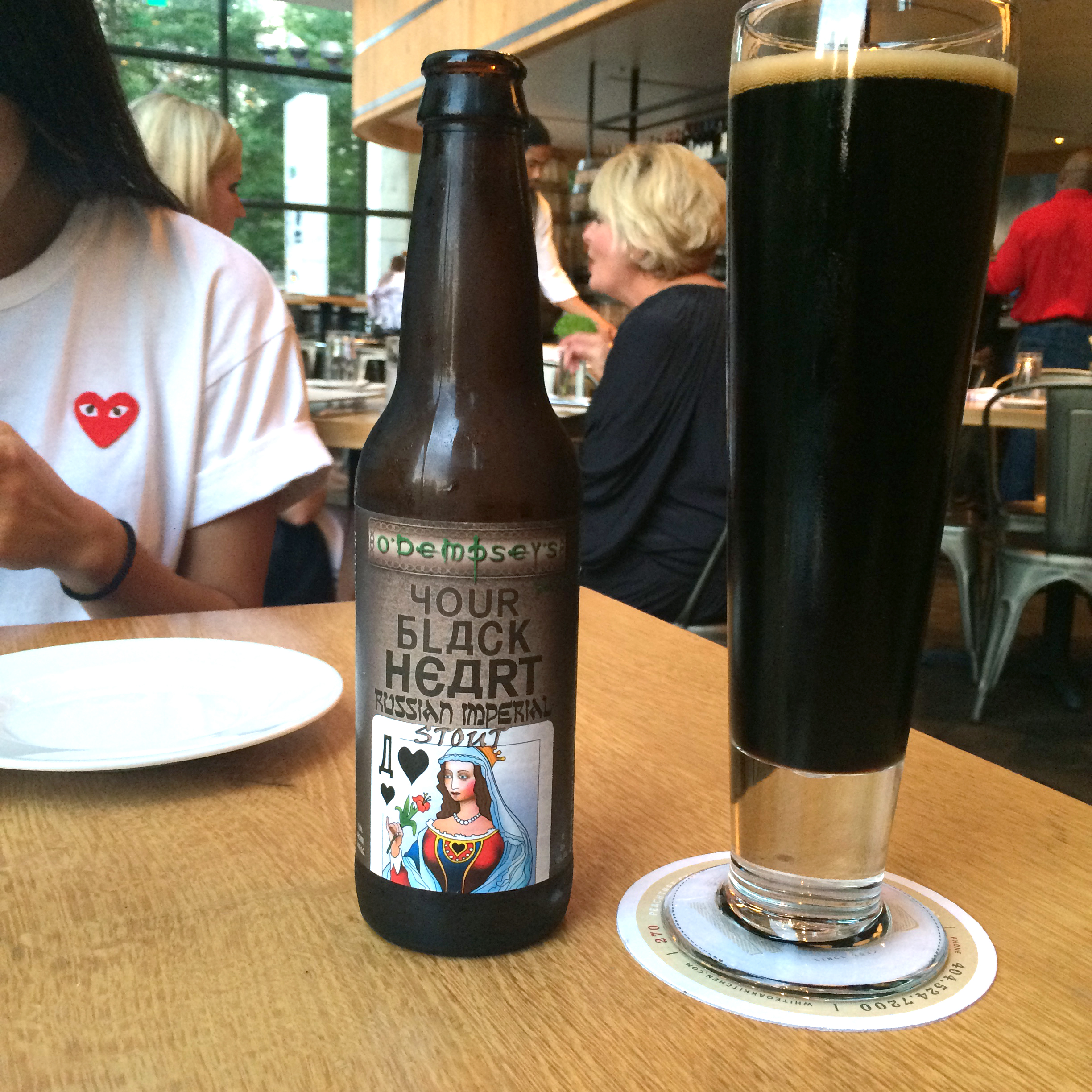 We discovered this Southern restaurant while walking back to our hotel. We had a really long day of work so we decided to treat ourselves. It's a good thing we took a chance because this place did not disappoint. Walking in, I loved the atmosphere and the incredibly friendly welcome we received. All of the staff members were super sweet and attentive. The interiors felt really open with raised ceilings and wide open windows. From their decorative barrels to the island bar, all of their furniture and floors were made of wood. Georgia's sun doesn't set until around 9PM so we had a couple hours to enjoy our meal in natural light. For starters, they gave us complementary bread with whipped apple butter, which was so good! I love it when restaurants have good bread :) For kicks, I ordered a Russian Imperial Stout called Your Black Heart, which was a pretty decent stout. For appetizer, we got a broccoli salad with grilled scallops and the short rib dish to share. They were both amazing but the scallops were definitely my favorite. For dessert, I got the Chocolate Bourbon Pecan Pie with Bourbon Pecan Gelato and Jess got Blueberry Fritters with Vanilla Bean Ice-cream. My chocolate pecan pie was really rich and flavorful and we were both stuffed after our 3-course dinner. The coolest part was when the chef came out to greet us after dessert! He introduced some of the upcoming specials and sweetly thanked us for coming out. When we received our check, there was a quote by Frank Lloyd Wright that read, "If you invest in beauty, it will remain with you all the days of your life." :)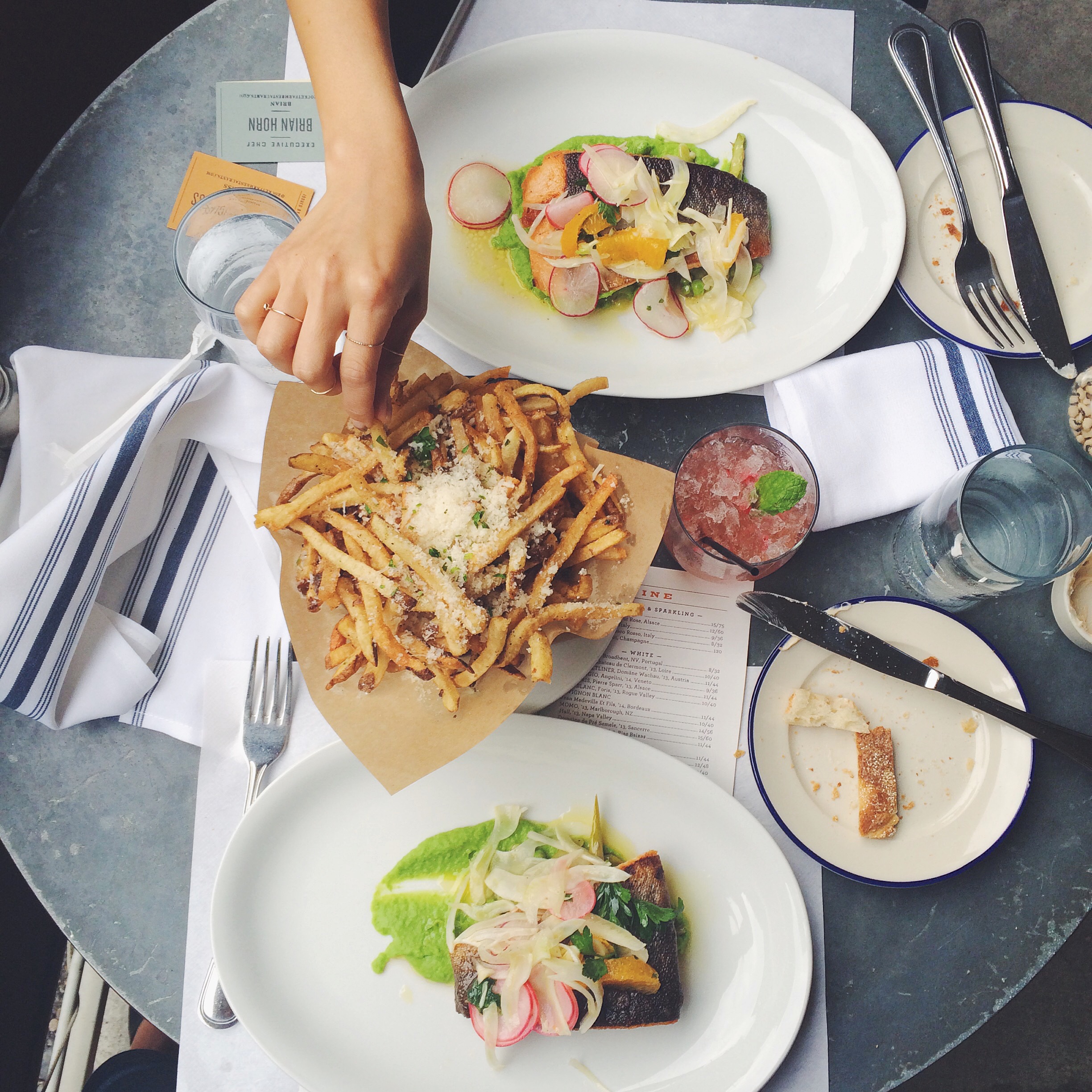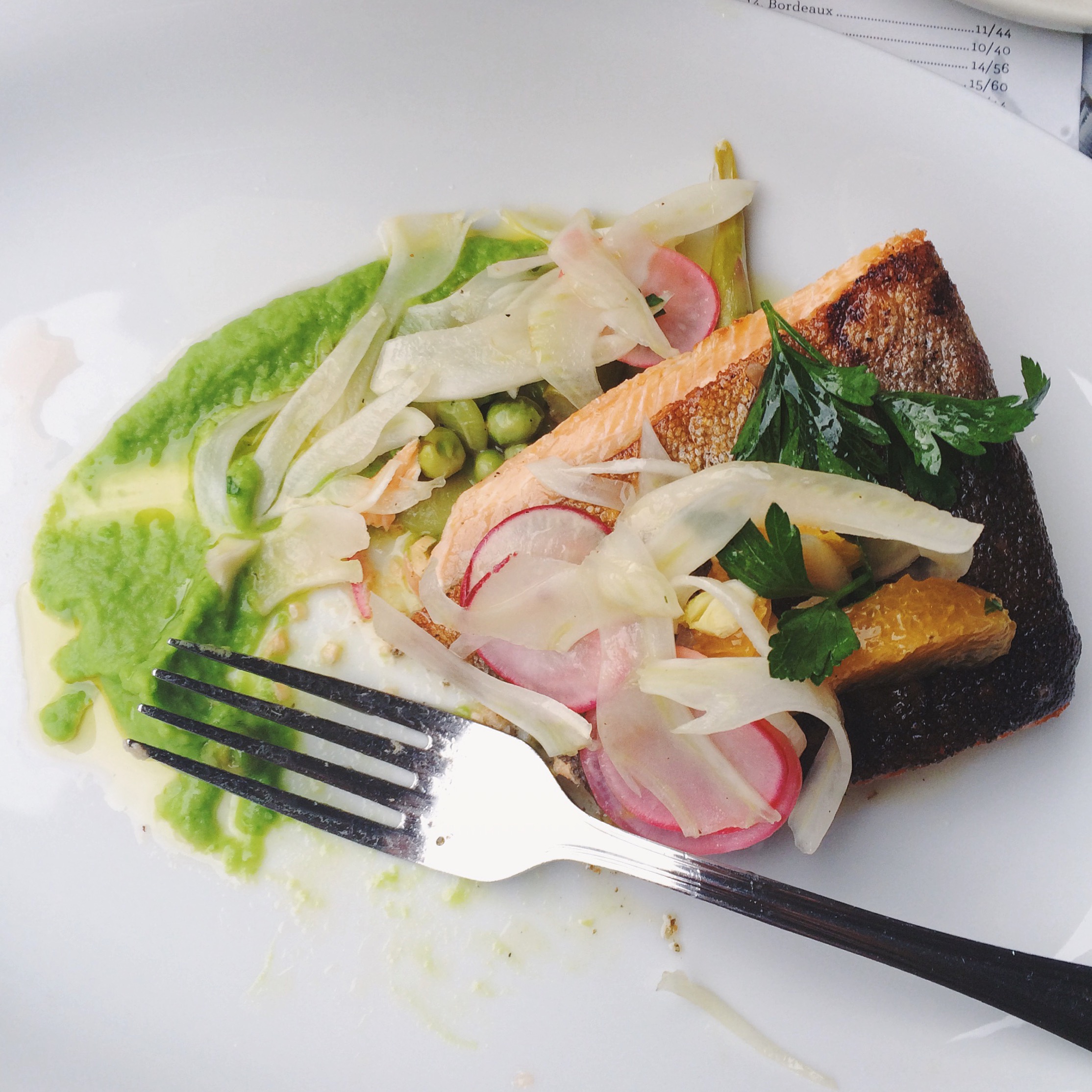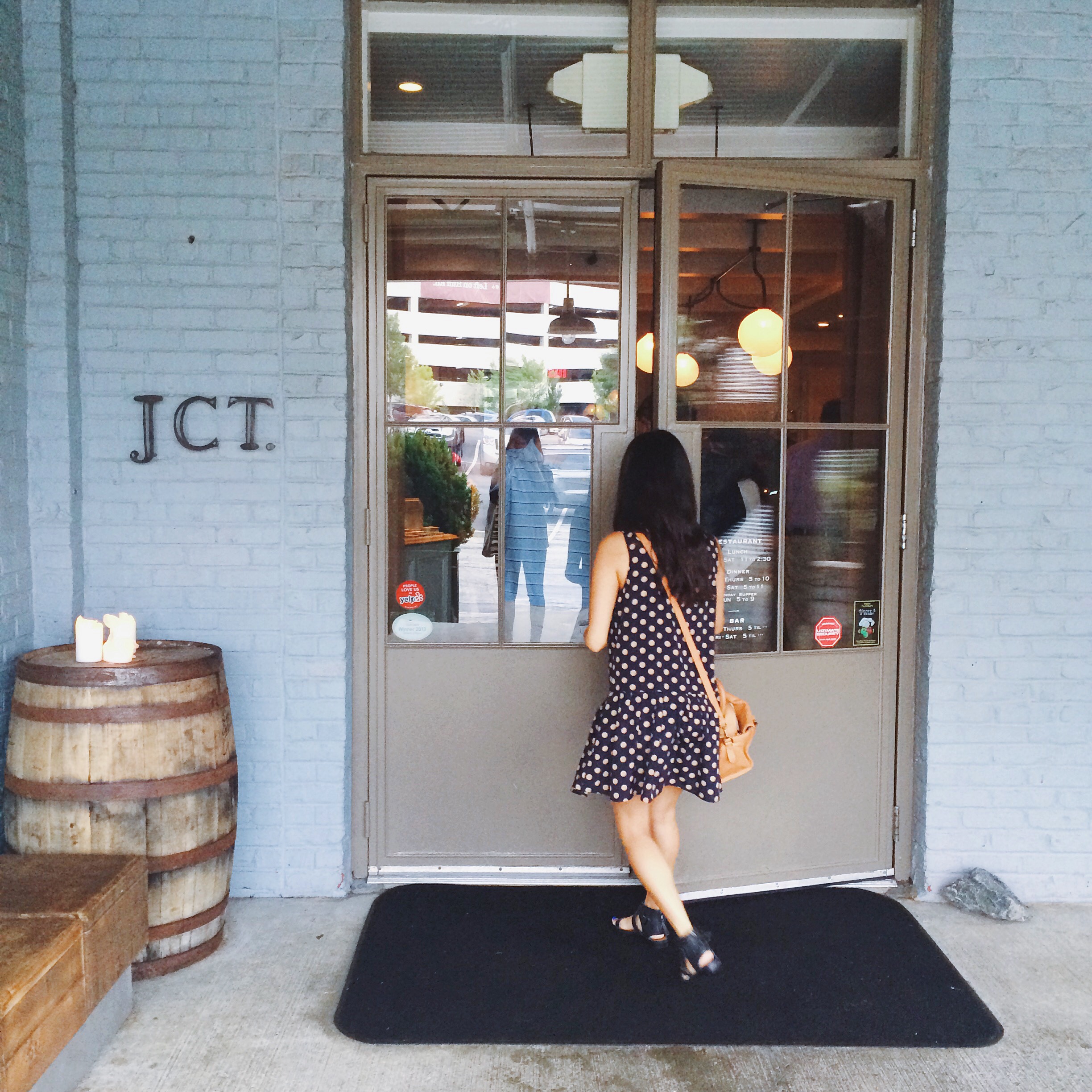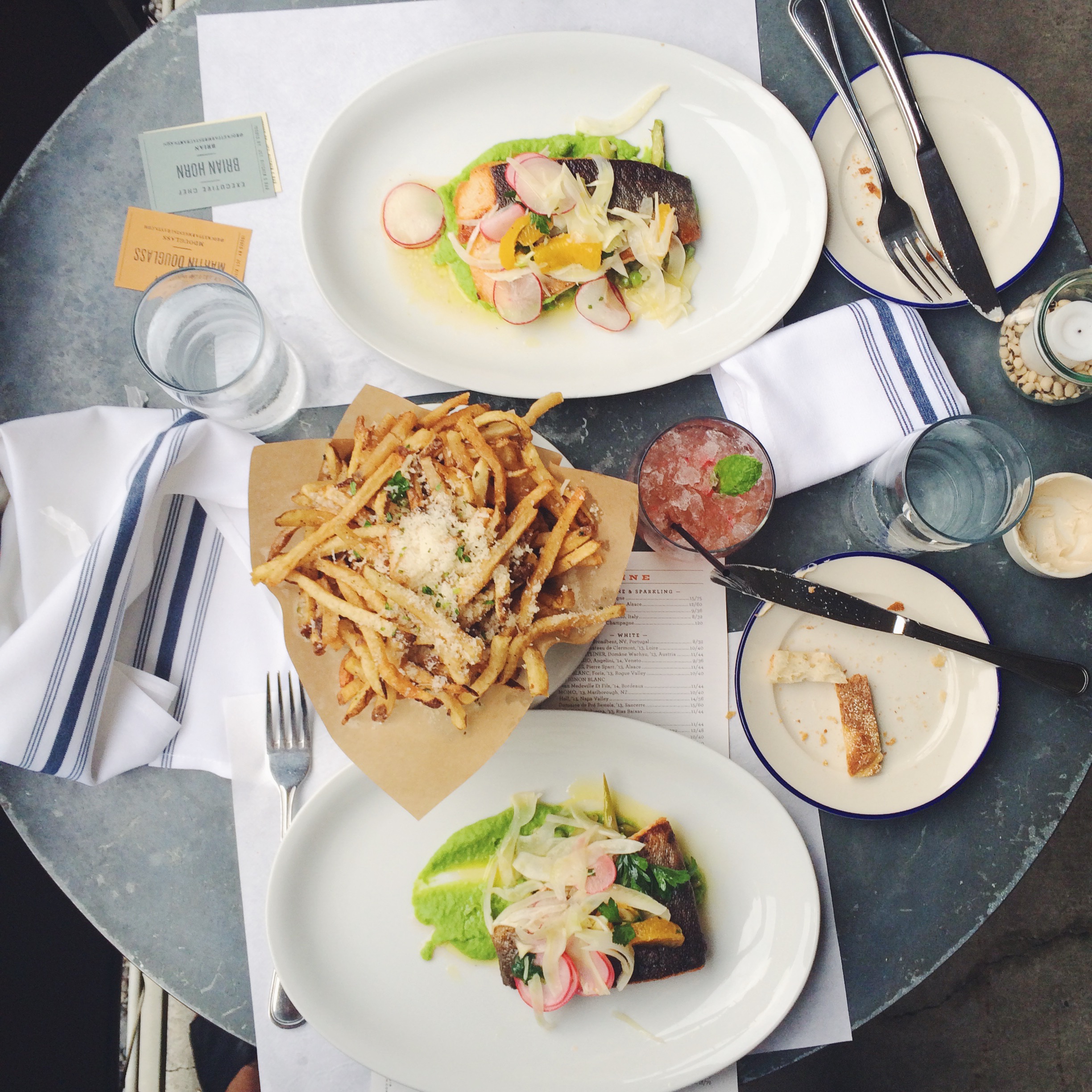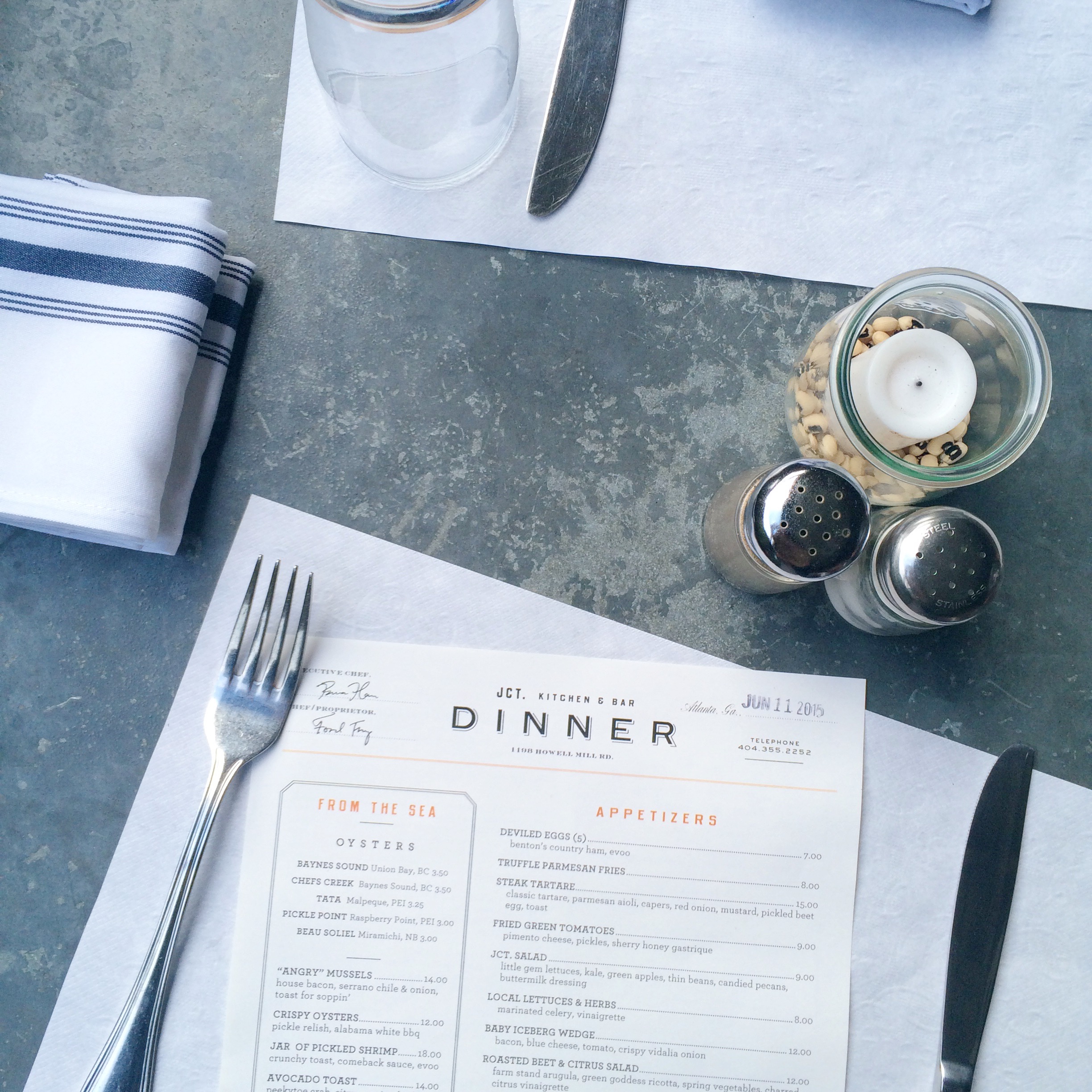 On our second night of the trip, Jess took me to this adorable Southern restaurant by Westside/ Home Park. It was located in this cool little mall area with a bridge over a railroad. The whole theme was brick & mortar/industrial, which I love! We ordered truffle parmesan fries for our appetizer and a cocktail called Little Habana— reminiscent to my favorite Cuban place called Habana back home. We both ordered Day Boat "fish of the moment" dish. That day they served a fish called hake, which the waiter described as having a similar taste of salmon with the texture of halibut. The dish was served with creamy spring peas, asparagus, fava beans, charred citrus vinaigrette and spring herb salad, which created a unique blend of flavors. The hake definitely had a similar taste to salmon, except with a tougher skin, and was really flavorful. Would definitely recommend this restaurant to anyone visiting Atlanta!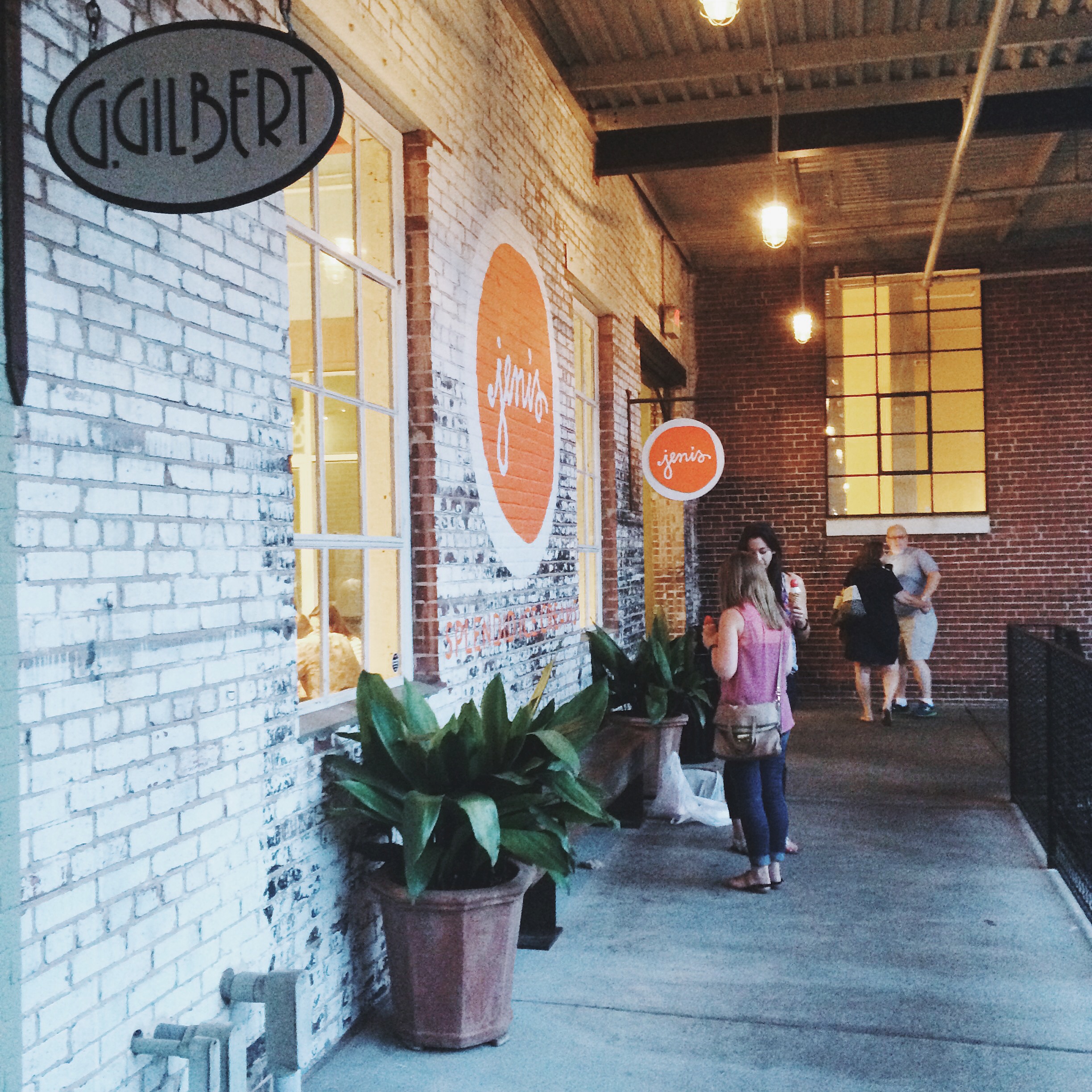 Clearly, Jess and I cannot end the meal without dessert, so we headed over to Jeni's next door to JCT for some ice cream. We're both huge fans of Jeni's, which recently opened in Los Feliz in California, and was super excited for our scoops! The associate that helped us was awesome and gave us generous samples of different flavors. Jess ordered Pistachio and Honey with Brown Butter Almond Brittle and I had Stumptown Coffee with Darkest Chocolate, which was seriously the best ice cream combo ever. I love that the Stumptown Coffee had bits of ground coffee beans in the mix. The Darkest Chocolate toned down the sweetness and gave it a richer texture— SO BOMB.
I was super excited about The Optimist because Jess told me this was her favorite restaurant in Atlanta. It's an oyster bar located in Homepark/ Home Park with live music and mini golf on their front patio — how cute is that?! I ordered a grapefruit + vodka cocktail called scurvy scoundrel. I'm usually a huge fan of sour or bitter flavors but that drink was too sour for me. For our oysters of choice, we each ordered: Piper's Point, Beaver Tails, and Chef Creek. Piper's Point had medium salt with a buttery finish and the Beaver Tails had a stronger brine taste with a clean finish. We both like Chef Creek best, which had medium brininess and a sweeter flavor. For our entrees, we ordered the Smoked White Fish Chowder (with bacon, oyster, crackers) and halibut to share. Along with good food, the elegant interior design added to the overall restaurant experience. The structure was similar to a barn with the floor plan like an open studio. I wish I was able to take more photos here but the dark lighting made it difficult. You'll just have to go see this beautifully curated space in person :)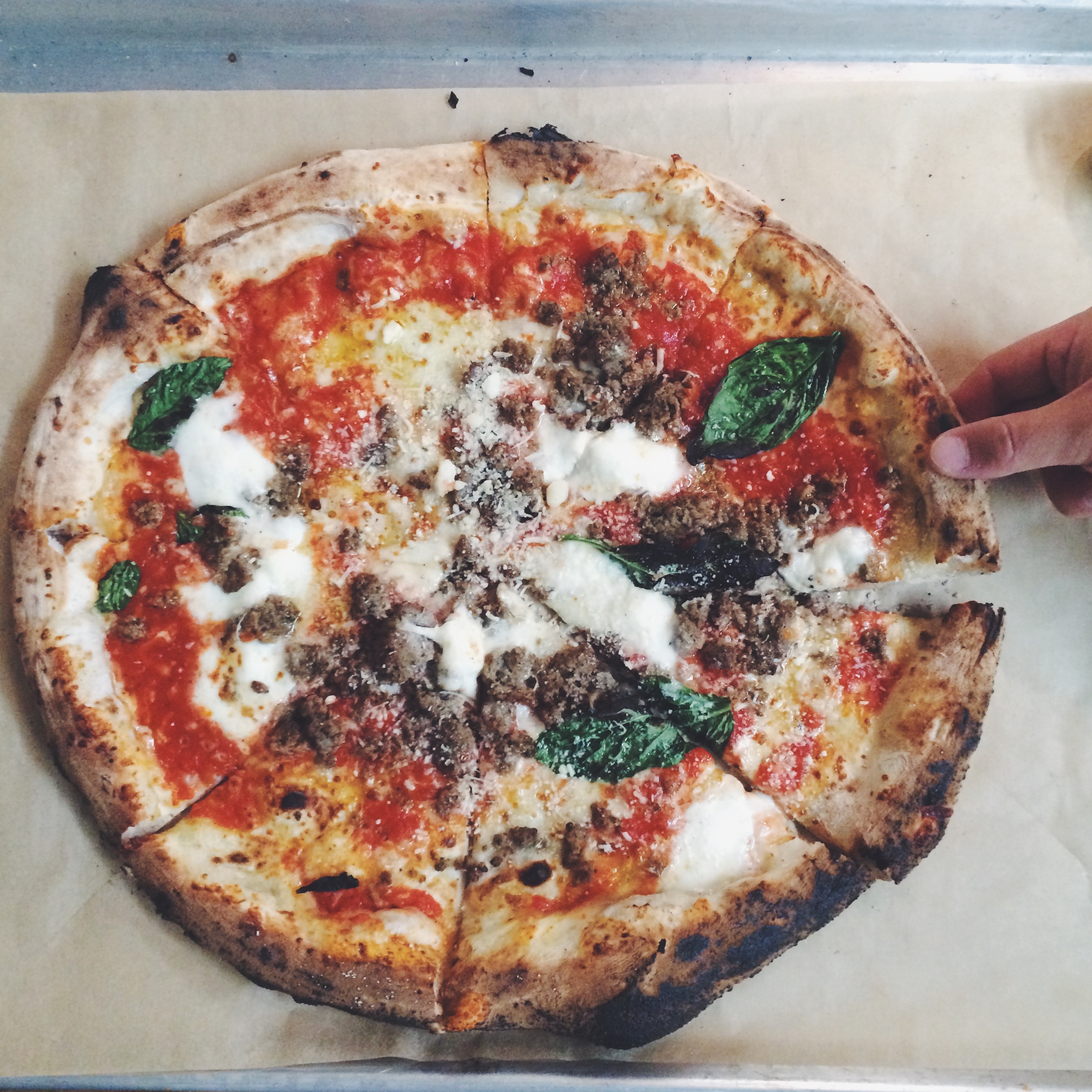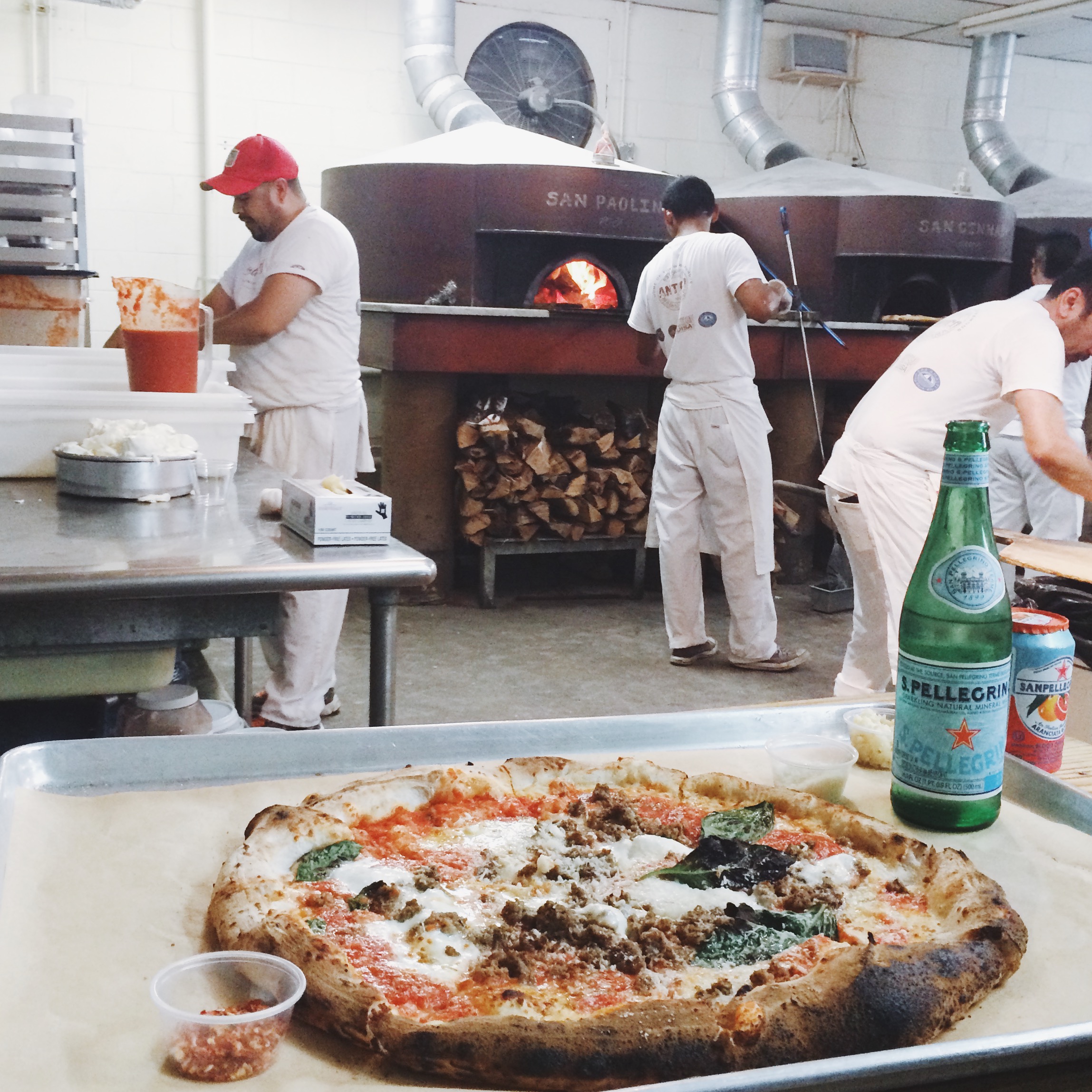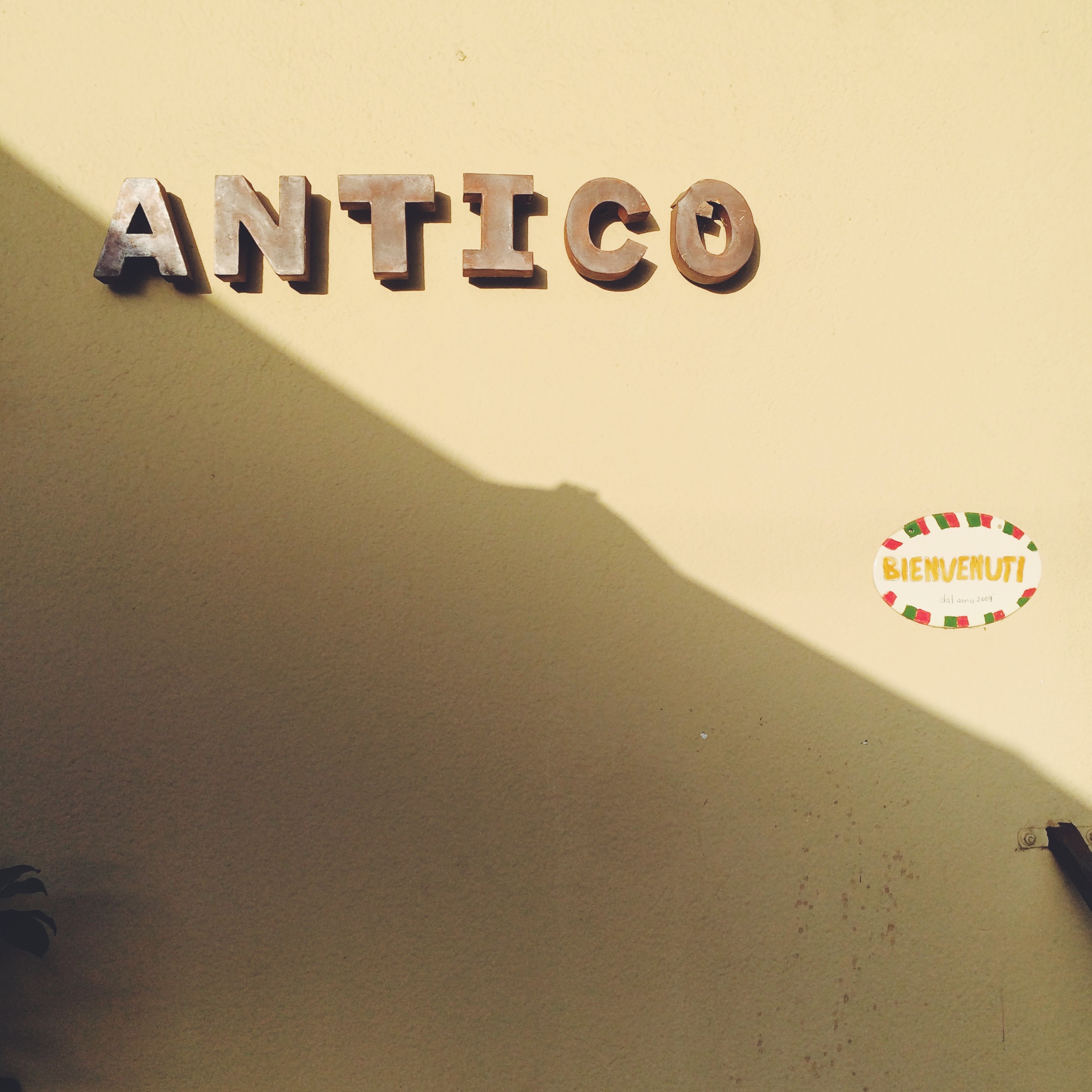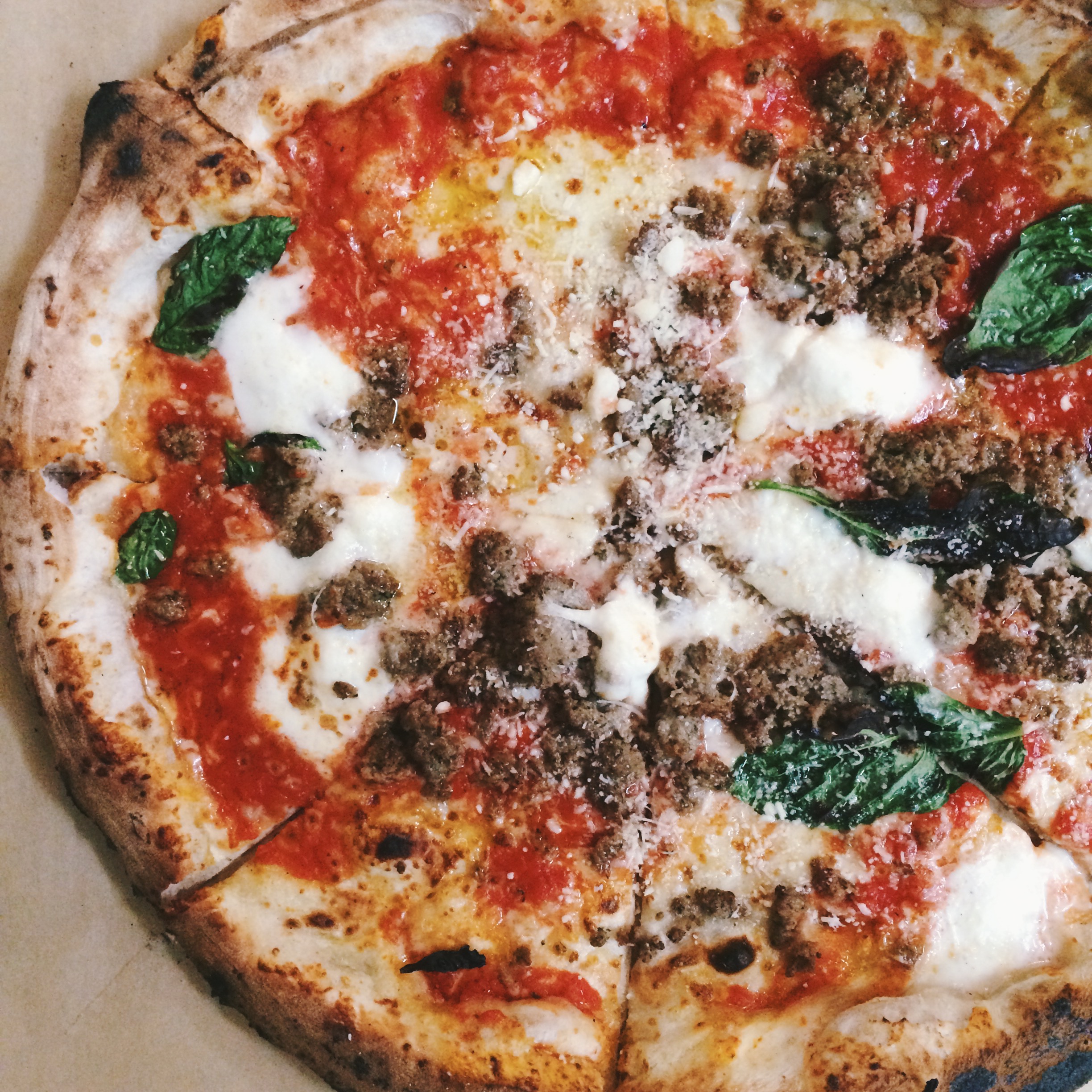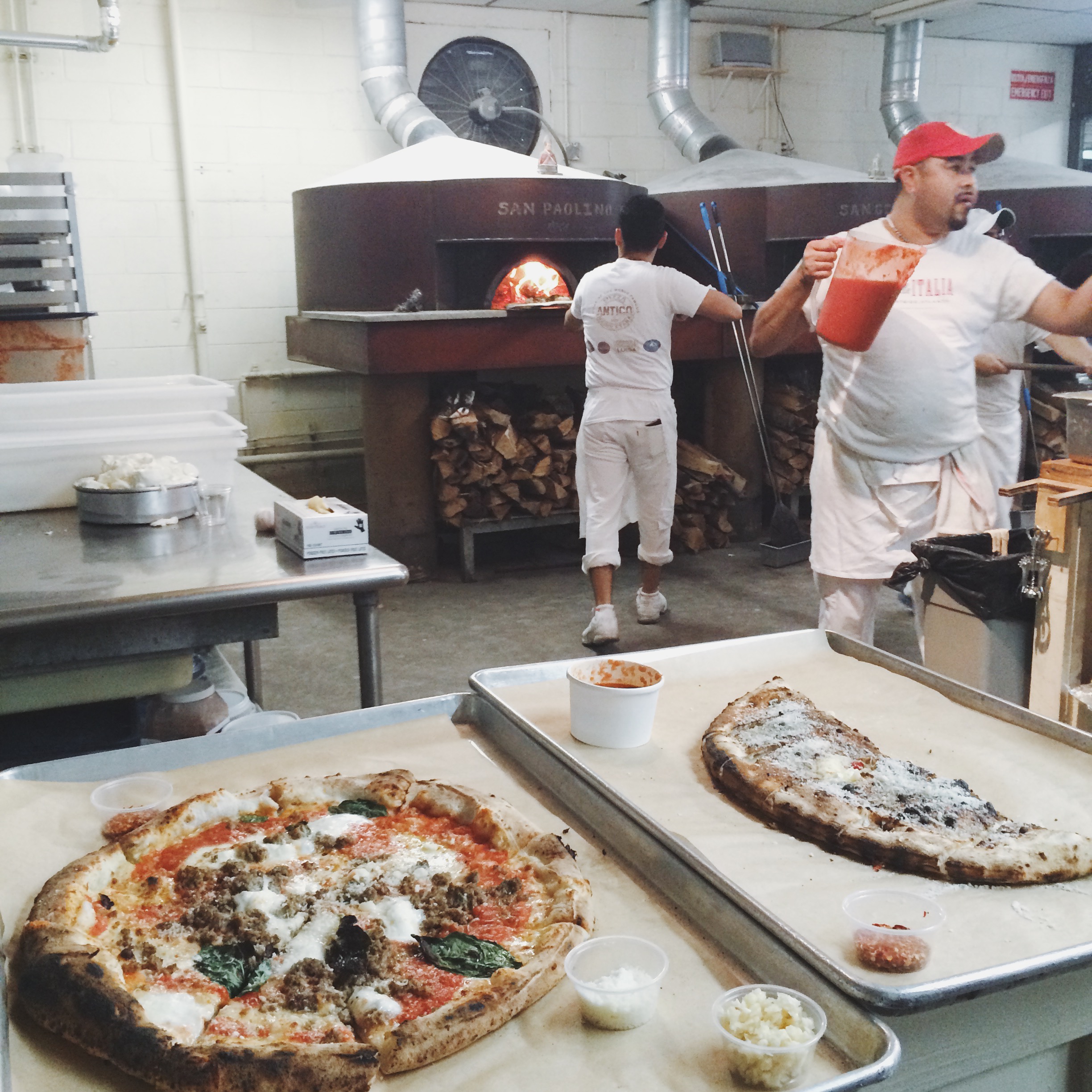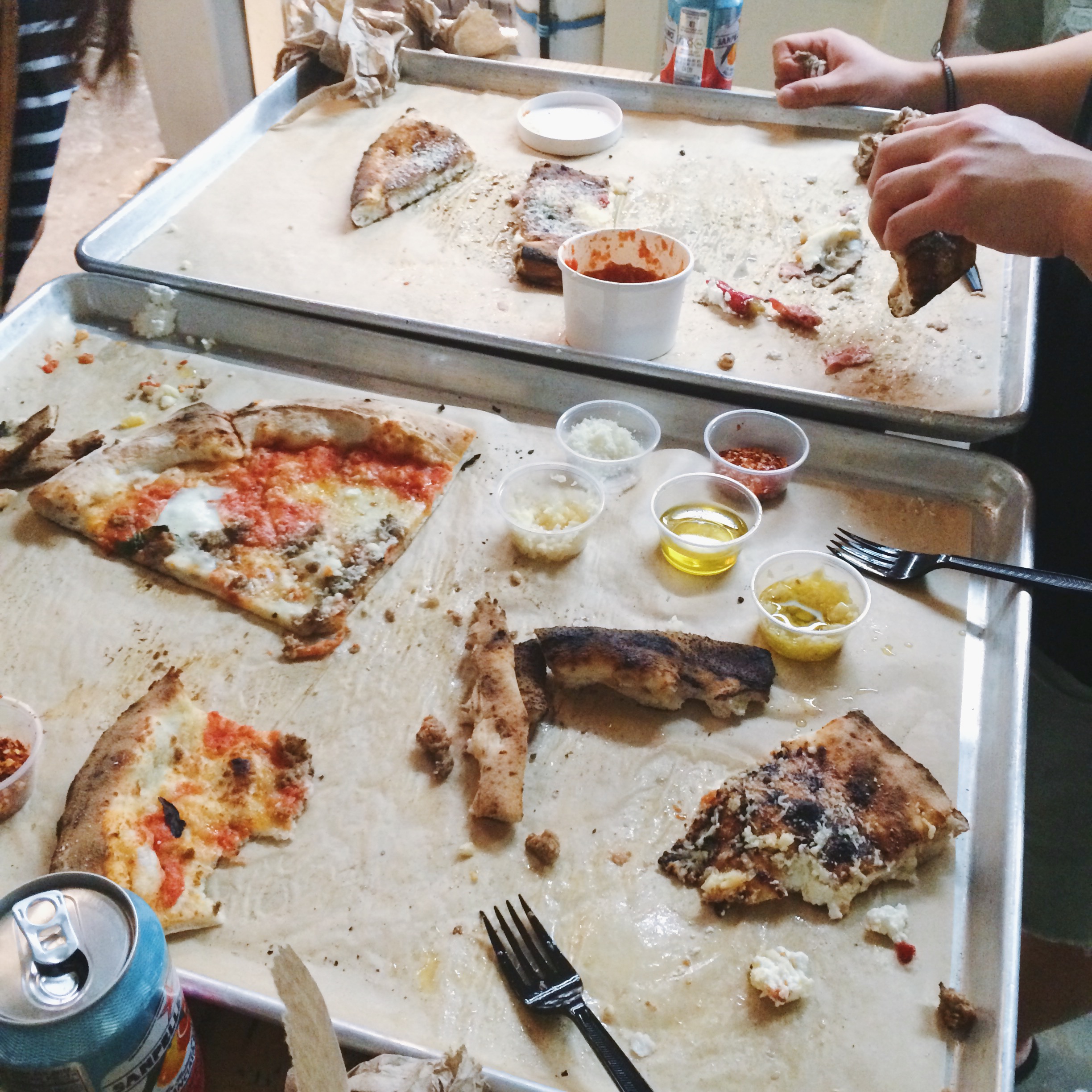 Antico
On the last night of our stay, we were craving pizza so Jess and David took me to get some "authentic Italian food." I didn't have much expectations going in but this place totally surprised me. After placing an order, we walked into the seating area, which is a small room packed with people. Along with body heat and no windows, they have an open oven where they make their pizzas so you could imagine just how hot it gets in there. People were gulping down their pizza slices with sweat dripping down their faces. It was not a pretty sight but the food was SO worth it. We ordered the Rosso-Lasagna pizza, which had meatball ricotta and romano, and a Calzoni napoletana with vesuvio, prosciutto, and a bunch of Italian ingredients I can't pronounce. The pizza was neopolitan-style with thin crust and was served hot off the oven. I can't quite describe why it was so good but let's just say it definitely makes it into my top 5 pizza list.
& that caps it for this food diary post! Special thanks to my travel buddy Jess for taking me along this journey and for taking a lot of these photos! I have a couple more travels planned for this summer and can't wait to share more. Thanks for reading!